Silent Book Club for teens
Uninterrupted reading time, every Friday at 3:30 pm! Why? Because life is crazy and reading is a great escape! There is no required reading material. BYOR(eading) – books, magazines, graphic novels even audiobooks – and curl up in one of our cozy booths to read for treats. Homework counts too! Show up, relax and get chill for the weekend!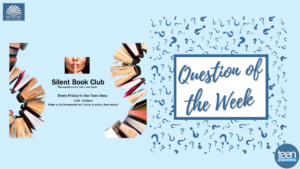 Question of the Week
Inquiring minds want to know… know what? That is a question, but not the question. Come on in, check out our chalk wall and then give us your opinion.
We are the inquiring minds and we want to know what you think.