Courses
| iCode | iType | Loan Rule | Loan Parameters | Call Number | Location | New Items on STAR? |
| --- | --- | --- | --- | --- | --- | --- |
| 10800 (Audio) | 95 | 67 | 21D YH YR $.10 | COURSE AudioCD ### Aut | znaa | No. |
| 11321 (Video) | 27 | 5 | 21D YH YR $1 | COURSE DVD ### Aut | znaa | No. |
WHAT'S INCLUDED:
Established life-long learning series: Titles in The Teaching Company's Great Courses series and Recorded Books' Modern Scholar series go here.
Some other educational material: It happens rarely, but we do sometimes shelve instructional material not part of the Great Courses or Modern Scholar series in the COURSES neighborhood. Key criteria for inclusion: the item in-hand has a long runtime (3 hrs+) and/or comes with supplementary material requiring something other than a regular DVD case. The neighborhood's 21-day lending period and large-format containers make it a more natural home for these items than the regular nonfiction DVD area. EXAMPLE:
DVDs and AudioCDs: COURSES material can be in either format. Use the appropriate iCodes and call number prefixes for each. Make sure to attach to the correct material type — i for the audio courses and g for the filmed ones.
WHAT'S NOT INCLUDED:
Documentaries: Put standard documentaries in our regular non-fiction DVD shelving area. Do this even if a disc seems particularly "educational" — i.e., the type of film you might watch in a high school history or science class, or use to supplement some personal enrichment program. Single discs offering a relatively cursory look at a topic do not belong in the COURSES neighborhood. EXAMPLE:
Short educational audio courses: Following the same reasoning outlined above, favor the regular AudioCD area for shorter, less structured classes, especially ones that don't come with printed supplementary material. EXAMPLE:
SPINE LABEL & OTHER INFO:
Neighborhood prefix: All call numbers in this area should start with COURSE DVD or COURSE AudioCD. Print the all-caps COURSE prefix on the spine label and save it in the item record. Do NOT include any extra information in the call number (i.e., nothing like this: COURSE 641.86 Dur + DVD).
Dewey cutter: Use the first three letters of the lecturer's name in the call number. Only default to title entry if there's no presenter/instructor clearly associated with the course.
Stickers: Put a green COURSES neighborhood sticker directly above the spine label. Emphasize the format of each item by affixing a blue DVD or purple CD sticker at the very top of the spine. As of summer 2020, also add the DVD TV loan rule sticker (21D YH YR $1) to the front of each container.
Supplementary material: Tape a copy of the barcode to the back of accompanying print material. Stamp NEWPORT PUBLIC LIBRARY on the t.p. and along the top of the booklet. For particularly bulky items, ones where the extra material doesn't fit in a regular COURSES container, affix the DVD or audio case to the support material with velcro. See the images below.
Message field: Include the number of discs and itemize any other significant content. For example: 7 CDs + 1 booklet. Make note here, not in an internal note, if our contents do not match what's outlined in the bib.
STICKERS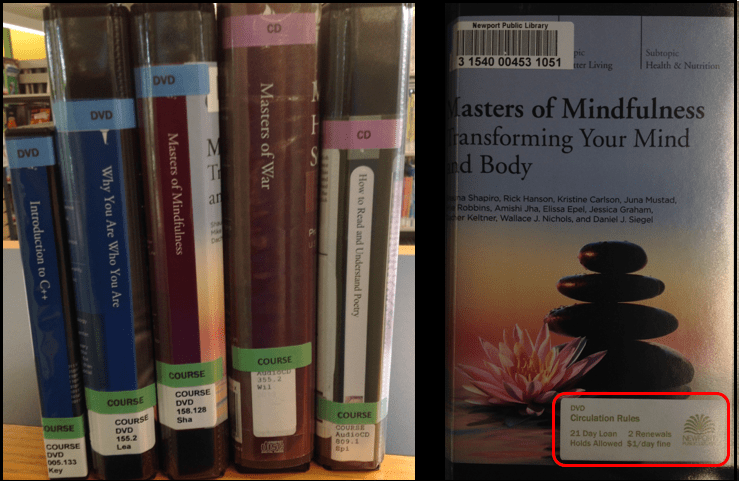 INSIDE

OVERSIZED MATERIALS