Naming Conventions & Shelf Order
Shelve ALL items alphabetically according to the author's last time (see the last section below on Icelandic names). Use only the first three characters, ignoring any spaces or punctuation marks.
The Mcs and the Macs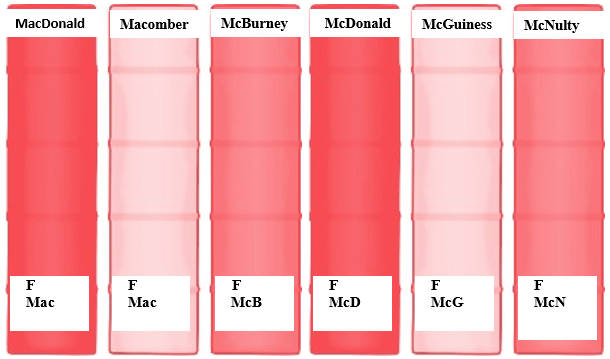 The Os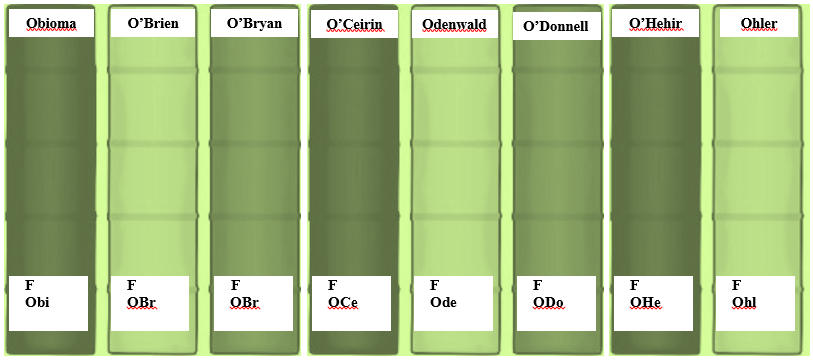 The Saints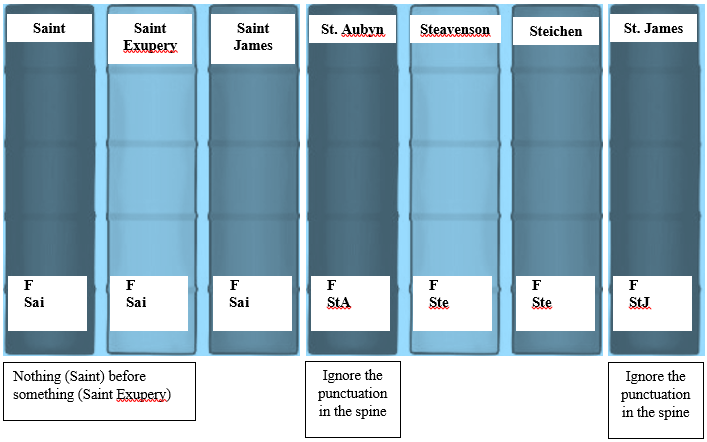 Names with Articles or Prepositions
For last names comprised of more than one word, the entry element varies depending on the author's country of origin and/or language with which he's associated. If an author has a little word in his name (De, La, Van, etc.), check the 100 field of the record. Use the first three characters listed for the spine label, skipping over any space or punctuation mark.
EXAMPLE 1:
Name: Louise De Bernières
100 field: |aDe Bernières, Louis,|eauthor.
Spine label: F DeB
Item record call number field: F De Bernières
EXAMPLE 2:
Name: Tatiana de Rosnay
100 field: |aRosnay, Tatiana de,|d1961-
Spine label: F Ros
Item record call number field: F Rosnay
The same guidance holds for authors with other types of complex surnames. For example, writers named according to traditional Spanish naming conventions may have both their mother and father's name attached to their given name. Do as above and use the first three letters in the 100 tag. In the item record, transcribe all of 100|a.
EXAMPLE 3:
Name: Gabriel García Márquez
100 field: |aGarcía Márquez, Gabriel,|d1927-2014,|eauthor.
Spine label: F Gar
Item record call number field: F García Márquez
Popular Series Picked Up By Secondary Writers
For a series that has been picked up by a new writer after the original creator died/stopped writing it, use the lettering on the cover to determine which author to use in the call number. If the original author has received top billing, use that author's name. Look for something formulaic printed prominently on the cover, i.e., Tom Clancy's Op-Center or Robert Parker's Angel Eyes: a Spenser novel. Clancy and Parker are dead now, but other writers have carried on their work. To bring some order to the shelving of these series, you'd continue to use F Cla and M Par for the spines.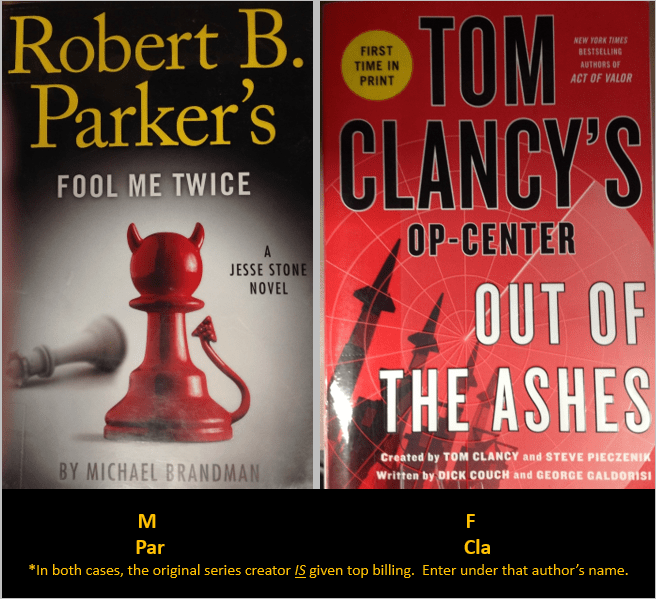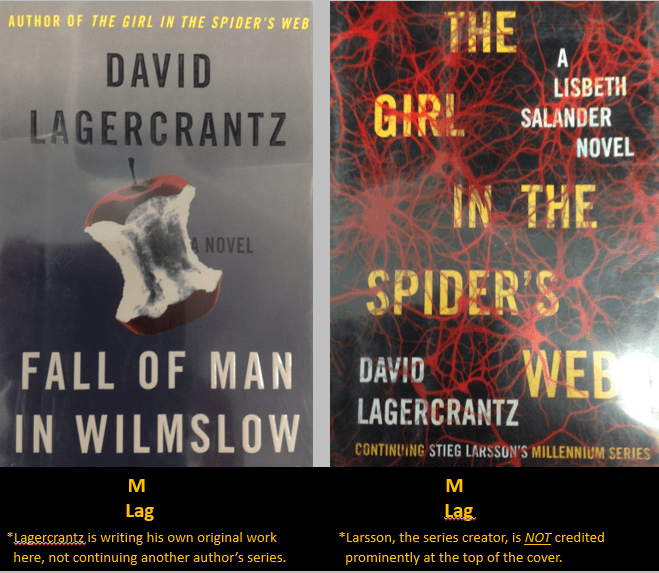 Authors with Icelandic Names
The covers of these books can seem misleading, as each writer's name appears on the book in the same order as it is listed in the 100 field of the MARC record. That would be like seeing "William Shakespeare" on the cover of a copy of Hamlet AND 100 |aWilliam Shakespeare in the catalog record. Because Icelanders formally go by their given names, this kind of order is correct for their records. Compare this with non-Icelandic Western naming systems in which an individual's "first" and family names are inverted in the 100 field, i.e. 100 |aShakespeare, William
So for spine labels, use an Icelandic author's "first" name, not his or her patronymic (the part ending in -son or -dottir). If our other books are under the wrong part of the name, pull them and correct the labels. More info on the Icelandic naming system is here.
A couple of examples: