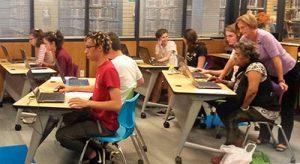 New Service! VHS Digital Conversion
Preserve those old family VHS tapes by converting them to a digital format! This free digital conversion service is facilitated by Library staff and is available to Ocean State Library cardholders. Available equipment can convert VHS cassette tapes into a digital file that can be saved onto a patron-provided flash drive. Call the Reference desk for more information 401-847-8720.
Click here to read the VHS Digital Conversion Policy.
Please call us at 401-847-8720 x208 as not all services are available at this time.
Lab Equipment
10 Dell Latitude 3570 laptops

Windows 10
Office 2016 – Word, Excel, Publisher and PowerPoint

2 Apple iMac 21.5″ computers with Adobe Creative Cloud including:

Photoshop
InDesign
Illustrator
Acrobat Pro DC
Premier Pro
After Effects
Animate
Adobe Muse
Adobe Audition

1 Makerbot 5th Generation 3D printer
1 Structure Sensor 3D scanner and devoted IPad and Skanect software
1 Graphtec cutting plotter CE6000-60 (vinyl cutter)
1 MPress 15″ x 15″ heat press
Epson SureColor P800 Inkjet Printer (charge applies)
FAQs
When is the lab open?
The Lab currently has a limited schedule.
Technology programs appear on the library's Events Calendar. For more information, call the Reference Dept. at 401-847-8720 x208.
What are the rules for using the Maker Lab?
Please review the Maker Lab policy and procedures.
How do I get access to Maker Lab Equipment?
See the events calendar for Open Studio times and instructor-led classes.
Apple iMac use is by reservation only at this time. Call the Reference Desk for more information, 401-847-8720 x208.
Where can I submit project files?
To submit files for use in our 3D Printer or Vinyl Cutter, please use our Maker Lab Request Form. 3D Print files must be in .stl format, and Vinyl files must be .eps.
You may also leave a Paper Form and an accompanying USB flash drive with us in person.
What does it cost to use the Maker Lab?
It is free to use our Maker Lab and the equipment provided. The library does reserve the right to begin charging in the future.
How big is your Maker Lab?
Our Maker Lab is 550 square feet (22 x 25), about the size of a small classroom.
More Info
Maker Lab policy
Maker Lab policy (PDF)
Maker Lab Request Form (Online)
Maker Lab Request Form (PDF for in person submissions)
[email protected]
Or, call us at 401-847-8720