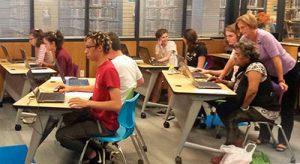 Please call us at 401-847-8720 x208 as not all services are available at this time.
FAQs
When is the lab open?
The Lab currently has a limited schedule.
Technology programs appear on the library's Events Calendar. For more information, call the Reference Dept. at 401-847-8720 x208.
What are the rules for using the Maker Lab?
Please review the Maker Lab policy and procedures.
How do I get access to Maker Lab Equipment?
See the events calendar for Open Studio times and instructor-led classes.
Apple iMac use is by reservation only at this time. Call the Reference Desk for more information, 401-847-8720 x208.
Where can I submit project files?
To submit files for use in our 3D Printer or Vinyl Cutter, please use our Maker Lab Request Form. 3D Print files must be in .stl format, and Vinyl files must be .eps.
You may also leave a Paper Form and an accompanying USB flash drive with us in person.
What does it cost to use the Maker Lab?
It is free to use our Maker Lab and the equipment provided. The library does reserve the right to begin charging in the future.
How big is your Maker Lab?
Our Maker Lab is 550 square feet (22 x 25), about the size of a small classroom.
More Info
Maker Lab policy
Maker Lab policy (PDF)
Maker Lab Request Form (Online)
Maker Lab Request Form (PDF for in person submissions)
[email protected]
Or, call us at 401-847-8720