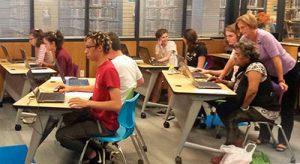 FAQs
Do you offer classes on Maker Lab Equipment?
The Library offers classes on basic 3D modeling and on creating vinyl cutter designs. See the events calendar for upcoming classes.
Where can I submit project files?
The Newport Public Library accepts files to printed on our equipment. To submit files for use in our 3D Printer or Vinyl Cutter, please click on the button below to fill out our Maker Lab Request Form:
3D Print files must be in .stl format, and Vinyl files must be .eps format.
You may also leave a Paper Form and an accompanying USB flash drive with us in person.
Job requests are for personal use only—commercial use of the equipment is prohibited.
We cannot accommodate print requests that include multiple copies of a single object. Project files that include multiple, unique objects are allowed, such as components that complete a single object.
Files must be no larger than 25 MB.
We cannot accommodate print jobs that require more than 5 hours.
What does it cost to print 3D objects?
There is currently no charge for 3D prints or vinyl prints. (See the Maker Lab policy for limitations.) The library does reserve the right to begin charging in the future.
More Info
Maker Lab policy
Maker Lab policy (PDF)
Maker Lab Request Form (Online)
Maker Lab Request Form (PDF for in person submissions)
[email protected]
Or, call us at 401-847-8720