Book Club Bags
| iCode | iType | Loan Rule | Loan Parameters | Call Number | Location | New Items on STAR? |
| --- | --- | --- | --- | --- | --- | --- |
| 10600 | 82 | 62 | 21D NH 0R 10c | Book club bag #X | znaa | No |
| 10600 | 82 | 62 | 21D NH 0R 10c | Book club bag #X | znaa | No |
CORE GUIDANCE FROM OSL
Shared bibs: Current practice is to use a single master record (material type "I") for each title, with library-specific contact info added in the call number field. Standard numbers appear to be omitted. Some have a 250 tag ("Book club edition"), some do not. Omit this field for now.
Common fields : A few generic entries are universal. When creating the first book club set bib for a title, include these:

300 (Description): 10 books + 1 notebook + 1 canvas bag.
500 (Note): Contact owning library to reserve.
740 (Added Entry): Book club in a bag.
LOCAL PRACTICES
Price: Use $100 as a default amount for each bag. Circ staff and the CM Head may itemize fees for missing/damaged items as opposed to lost or ruined sets. This is not currently noted in a message or internal note.
Status: Set each bag to status "o" (LIB USE ONLY).
Call number: Include the bag number and the CM Head's contact info here. For example: Book club bag #3: Contact NPT to reserve: [email protected]
Location: Use znaa, not znaf/znanf (

this element in the screenshot below is incorrect

).
Contents list: Include this in a message field for circ staff to reference on check-in: 1 blue canvas tote bag with library logo, 10 books, and a gold folder with discussion questions
Individual books: Do not barcode the books themselves. In addition to the regular date and NPL stampings, the only identifier each book gets is a spine label. Follow this format, indicating the book club bag number and book number: BCB # Bk #. See an example at the bottom of the page.
BIB AND ITEM RECORD FIELDS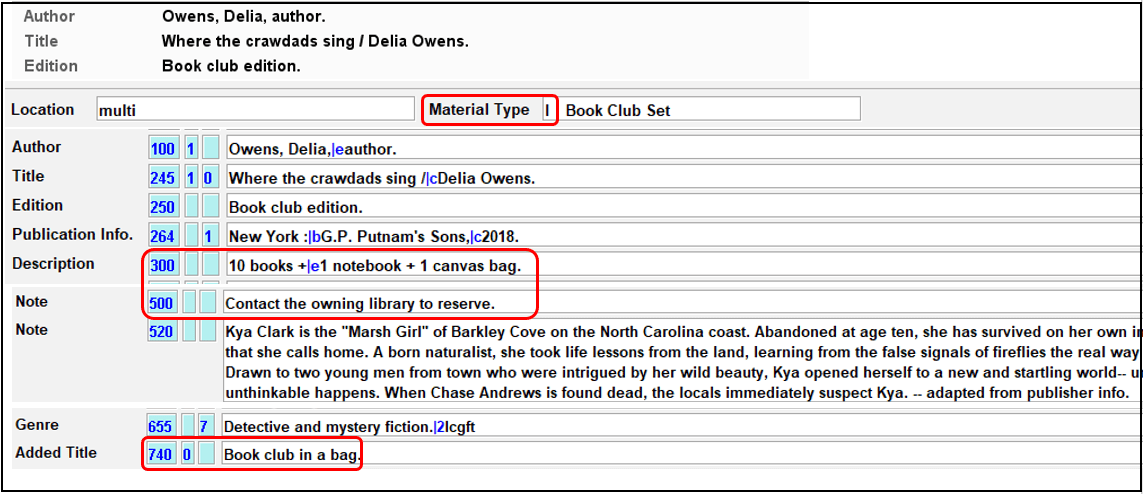 NOTE: use icode 10600 for all book club bags
MATERIALS