Music CDs
| iCode | iType | Loan Rule | Loan Parameters | Call Number | Location | New Items on STAR? |
| --- | --- | --- | --- | --- | --- | --- |
| 11500 | 95 | 67 | 21D YH YR $.10 | MusicCD ### Genre | znca | Yes. Use iType 82 and location znan. Add STAR to OPAC call number. |
What's included:
Recorded music on CD: The znca location is for standard 4 3/4 in. digital audio discs only.
Genres: As of 2020, we divvy the music collection up into 11 subgroups: classical, country, folk, holiday, international, jazz, opera, popular, religious, rock, and soundtracks.
What's not included:
Sheet music: Printed music has its own material type ("c") and is shelved with the main nonfiction print collection.
DVDs: Even if a DVD/Blu-Ray carries only the filmed recording of a concert, it does not go in znca. Shelve viewable content with our nonfiction DVDs.
Spine label and other info:
Identifying genres: For crossover material, prefer Midwest Tape's classification over the first 650 field in the bib record. If Midwest lists "R&B," a genre we're not currently using, use "Popular" instead. Note that we WILL be adding a Rap/R&B label; continue to use "Popular" loosely till the specifics of the new category are ironed out. Find the genre on the item description page for each CD (see image below).
Country music: This is the one genre that we've consistently abbreviated on the spine. Continue this practice. Use

MusicCD ### C&W

when processing the item. Retain the abbreviation in the call number of the item record; do not spell out "Country."
International music: Up until mid-2020, we wrote out the word in full, breaking it into two lines on the spine ('Inter-" and "national"). Going forward, abbreviate international music with "Int'l" when printing the label:

MusicCD ### Int'l

. But do continue to use the full word for the item record.
Rap and R&B music: Prior to mid-2020, we did not have a separate label for these, bundling them instead under the broad "Popular" tag. Our practice now is to break them out, using

MusicCD ### RapRB

for the spine and call number. Existing Rap and R&B CDs were relabeled with the new genre suffix and sticker in September 2020.
The Folk and Jazz Festivals: Prefer "Newport" as the entry for compilations of tracks from the Newport Folk (

MusicCD New Folk

) and Newport Jazz (

MusicCD New Jazz

) Festivals . This way, regardless of any introductory words used on a particular disk, the bulk of our festival recordings will be grouped together and easily browsable. For example:

Ben & Jerry's Newport Folk Festival: turn of the decade. MusicCD New Folk
Newport Folk Festival: best of bluegrass, 1959-66. MusicCD New Folk
The Evening concerts: Newport Folk Festival 1963. MusicCD New Folk
The best of Newport '57. MusicCD New Jazz

Tribute and cover albums: Generally, use the original artist (the individual or group whose initial composition or performance made the work famous) as the entry. Prefer this even when the new performer is given prominent billing on the disc jacket or is credited with providing a new arrangement of some of the material. When to make an exception: if the cover artist is as well known or even more famous than the original, it may make more sense to enter the disc under the newer name. See the last example in the list below:

It's too hot for words: celebrating Billie Holiday / Metropolitan Jazz Octet, featuring Dee Alexander.
Alexander is featured prominently on the disc and attributed in the 245|c, but still record the item under Holiday's name: MusicCD Hol Jazz
Piano concertos / Frédéric Chopin.
On the cover art, pianist Ingrid Fliter's name appears much larger than Chopin's, and she is the main performer credited in the record's 511 field. Many patrons look for classical music by the composer's name, however, not the performer's, so enter the disc under Chopin: MusicCD Cho Classical
Love is here to stay / Tony Bennett & Diana Krall.
Here, Bennett and Krall are covering George Gershwin's material. Given the fame and popularity of the duo, it's okay to bend the "rule" in this case and not enter the item under the original artist, Gershwin. Use Bennett, the first of the two top recording artists listed: MusicCD Ben Jazz
ITEM RECORD


SPINES AND STICKERS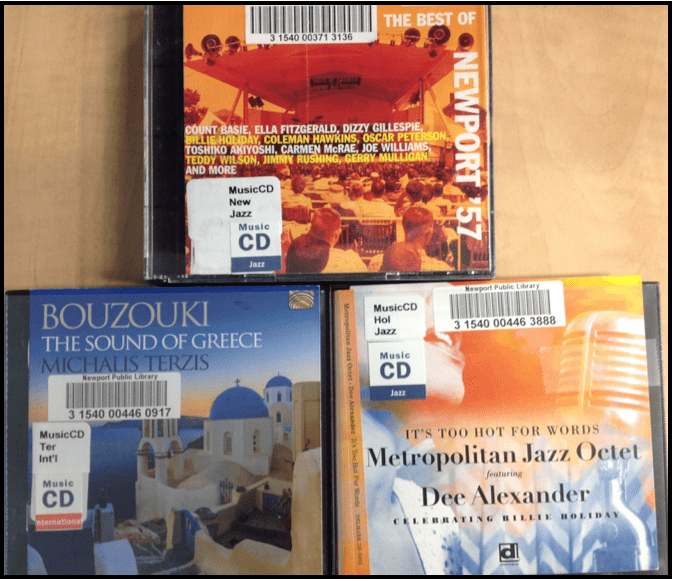 MIDWEST TAPE GENRE INFO