TV Shows and Mini-Series
| iCode | iType | Loan Rule | Loan Parameters | Call Number | Location | New Items on STAR? |
| --- | --- | --- | --- | --- | --- | --- |
| 11355 (DVD) | 27 | 5 | 21D YH YR $1 | DVD TV Tit | znda | Yes. Use iType 81 and location znan. Add STAR to OPAC call number. |
| 11155 (Blu-Ray) | 27 | 5 | 21D YH YR $1 | BLU-RAY TV Tit | znda | Yes. Use iType 81 and location znan. Add STAR to OPAC call number. |
All disks in the TV area should carry episodic content and have total runtimes of at least 180 minutes or so. Made-for-TV movies, televised documentaries, and some BBC and PBS productions can be problematic; use the guidelines below to determine if an item should go here or in our shelving area for feature films and documentaries.
WHAT'S INCLUDED:
Regular TV shows: Any creative work televised in installments goes here. This includes sit-coms, crime dramas, syndicated cartoon shows, and other traditional TV productions. These items come in with numbering — "Season 1" or "Series 2" — and are easiest to identify. Some non-fiction series, such as The Great British Baking Show, which follows the same small cohort of amateur bakers over the course of a season, may also fit in DVD TV. When considering a non-fiction show for the TV area, give more weight to whether or not the content is meant to be watched as a "whole" rather than to the total runtime. If there's some kind of narrative coherence from episode to episode across each season, err on the side of the TV (11355), not documentary (11321), shelving area. EXAMPLES:
Limited-run series: These productions are generally not spread out over multiple calendar years/seasons and so consist — in their final form — of relatively few episodes. Many Masterpiece Theater and BBC TV shows fall into this category. Some of their mini-series and two-or-three part made-for-tv movies began production with a finite number in mind; others simply were not picked up after their first season and so ended up "short." Watch out for limited-run series that ultimately were brought back for additional episodes — initially marketed as finite productions, the first set of episodes probably did not come in with "Season 1" indicated anywhere in the record. The spine labels and call numbers on these first disks should be updated to mark their place in the sequencing. (Idris Elba's show Luther was initially marketed as a 6-episode mini-series, but production continued through multiple seasons. Note the lack of numbering in the "Season 1" bib.) EXAMPLES:
Thematic specials: So long as these one-off, watch-in-one-sitting releases are associated with a regular TV show, put them here rather that in DVD FF. These typically include holiday, anniversary, and "making-of" specials. EXAMPLES:
Individual episodes: Some shows have particular episodes available on their own disks. For example, many Agatha Christie mysteries that originally aired as part of the Poirot or Miss Marple series have also been released on their own standalone disks. These could be watched as "films" in their own right, but because they're so readily associated with BBC or PBS television, keep them in DVD TV. EXAMPLES:
WHAT'S NOT INCLUDED:
Any major motion picture based on a television show. Put these in our feature film area (11301, DVD FF). EXAMPLES:
Any standalone documentary, even if it was produced and released as part of an ongoing television program. This includes many travel shows (i.e., Rick Steves'), National Geographic specials, and BBC/PBS productions (i.e., Frontline, Nature, BBC Earth). Though these are technically TV shows, and some of the individual disks do have lengthy runtimes, patrons can choose to watch portions of the material without losing anything. There's no real narrative structure/story arc to the show overall, no sequential glue binding "episode" to "episode" or "season" to "season." EXAMPLES:
Ongoing non-fiction television shows with content that doesn't require sequential viewing. Though each season will have a lengthy runtime, patrons are likely to watch only the episodes that interest them. The longer DVD TV loan rule is not needed. EXAMPLES:
SPINE LABEL AND OTHER INFO:
Add a Foreign Film sticker to shows filmed in a foreign language. Where a program is produced is less important than the dialogue in which the characters speak. English-language British, Australian, and Canadian productions, for example, do not get the sticker. Check subfield |h and the first subfield |a in the 041 tag to determine language content; foreign language shows won't have eng in these slots.
Include the number of disks in a message field. The TV item record template should prompt you for this (with the spelling "disc," not "disk").
Note the different icodes for DVD and Blu-Ray disks (table at top of page). Blu-Ray copies are rare, but be sure to use the correct template for them when they come in. Also make sure they have material type "1" (not "g").
As of July 2020, we are no longer using "Season," "Series," etc. on spine labels or in call numbers. Omit any word used for a grouping of episodes and just record the number, i.e., DVD Veep 7. When to make an exception: If we have a run of disks for a show that all follow the same grouping mechanism — Series 1, Series 2, etc. — and later get a disk with a different kind of collection label, DO record that label when processing the item. For example, a curated set of Poirot mysteries that comes in marked "Set 1" and is distinct from all our "Series" Poirot disks, would get "Set 1" on the spine and in the call number. Do this to differentiate the odd-one-out from the regular run.
Update our local spreadsheet whenever new TV disks come in. Add new entries (whole rows) for newly acquired series; update the Holdings, Purchasing Notes, and Production Notes columns on shows we already carry. In both cases, be sure to initial and date any changes made. File path: Collection Mgmt > Current Projects > TV shows > TVshows_master.xlsx
When it'll help bring closely related material together on the shelf, use a two-part Cutter in the call number. For example, our many Sherlock Holmes DVDs would be spread out if they weren't first collocated under "She." (Individually packaged episodes like The sign of four and curated mini-collections like The casebook of Sherlock Holmes would be split off under DVD TV Sig and DVD TV Cas respectively. "Fix" this by inserting the three letters for Sherlock: DVD TV She Sig, DVD TV She Cas.) Follow the same practice for one-off films associated with a show. For example, Miss Marple and the crypt of tears, a film based on the popular mystery program, is entered as DVD TV Mis Cry. See the image below for examples.
SPINE LABELS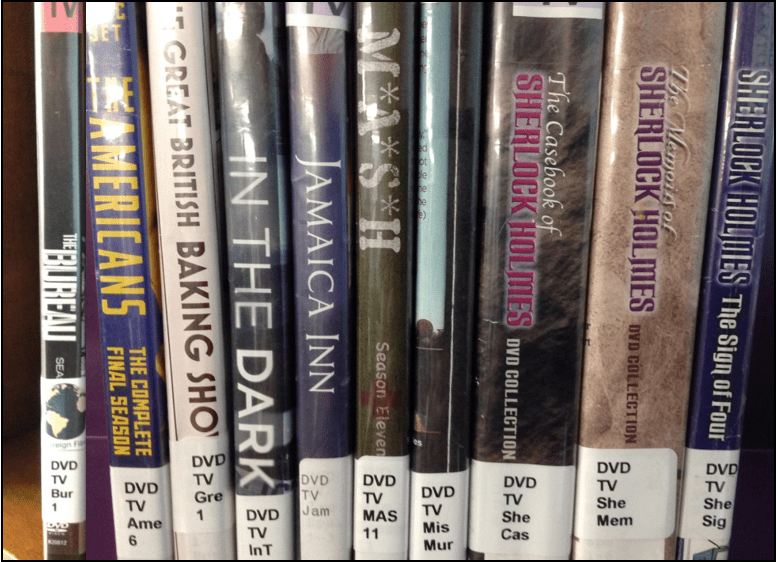 ITEM RECORDS