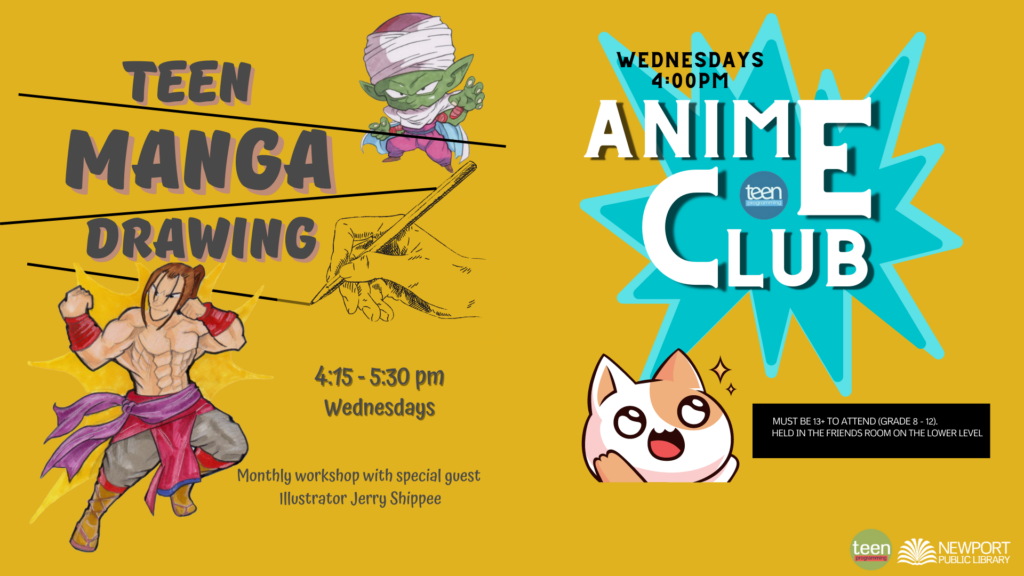 Join fellow Anime and Manga enthusiasts for monthly club meetings on the third Wednesday of the month at 4pm in the Friends Room on the Lower Level.
What do we do?
Watch anime, have a snack, enjoy a fun activity and socialize.
Who can join?
The club is open to students in grades 8-12. Club Members must be at least 13 years old to attend.
What do we watch?
We watch anime from a pre-selected list from our Crunchyroll subscription, that has been reviewed by our teen librarians to determine the appropriateness for a teen audience. This includes researching ratings and reviews on Internet Movie Database (imdb.com) and My Anime List (myanimelist.net). Content will be rated PG or PG-13/TV-14.
Club Members who wish to suggest a series, episode or movie for us to watch, can do so by letting the YA librarians know. We will research the title and, if it is approved, added it to our watch list.
Attendees must be at least 13 years old.
Club members are also welcome to raise concerns if they are uncomfortable watching selected content. Otherwise it is assumed that the content is acceptable to all teens in attendance.
What Parents Should Know About Anime Programs
Parents and guardians are responsible for determining what library programs their children can attend. If you are uncomfortable with you teen viewing materials rated PG-13/TV14, this club may not be a good fit.